As of March 2015, Google has been prioritizing search engine query results to responsive websites. If your business audience is primarily targeted towards consumers, and your website is not mobile-responsive, it could be highly detrimental. Learn more about the pros and cons of responsive websites, which businesses will be mostly affected and how to get it fixed!
How Google's strategy is affecting your business?
If you're a B to B business, this is not overly critical as the majority of your audience is most likely reaching your website via desktop, laptop or tablet versus mobile phone. However, you should consider migrating your website to a responsive platform within the next 12 months. The consequences of not doing so will be a progressive loss of web ranking, where Goggle search results will place your website to a lower position and it will ultimately result in a reduction of traffic. If you're a B to C business, this is critical as the majority of your audience is most likely reaching your website via mobile phone rather than desktop, laptop or tablet. You should then consider migrating your website to a responsive platform within the next 6 months or less.
How can I check if my website is mobile-friendly?
The best way is to view your website on a mobile phone. Rendering may vary slightly on various mobile phone brands but the ultimate test is to verify that all elements of your website are re-formatted to a mobile vertical view. All elements such as header logo, images and content should re-scale appropriately. You'll also notice that the navigation area will be converted to a separate drop down menu, identified by a 3-bar icon or by a "menu" link at the top of the mobile view. You can also test your site on a desktop, laptop or tablet browser: Grab your browser window right edge and pull it in until the browser window width is roughly the width of a mobile phone screen size. If all elements scale and re-format in a vertical format, it's fine. If not, your entire website will be rescaled and look very small. This also affect websites that may re-scale appropriately but do not reformat properly. Please see a sample below of how a genuinely mobile-responsive website should convert: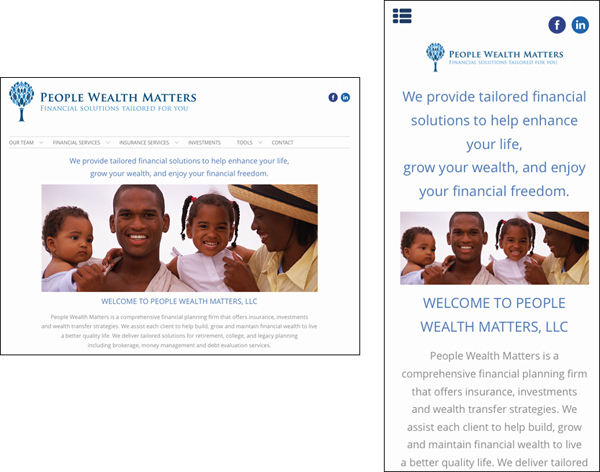 Where do I start?
There aren't any option but to redo your website on a responsive platform. It could be a straightforward transfer or the opportunity to redesign the appearance of your website, this latter option being more expensive. Recommended responsive platforms are generally provided by industry-specialized, all-inclusive CMS platforms such as for real estate, education, financial and/or non-profit. If your website is required to be in an industry-specialized, all-inclusive CMS platform, please ask your provider if their platform is in fact mobile-responsive. Otherwise, Word Press provides the most cost-effective option and has a broad choice of responsive themes. It is probably the most cost/quality ratio platform available. All major online hosting (Godaddy, Network Solutions or Register.com to name a few) have automated Word Press installations. This is the best choice for medium to large and/or complex websites. Word Press has a large collection of plugins for any programming functionality (membership, password protected registration, e-commerce, calculators, etc…). Word Press themes also offer full access to code for customization and are easily editable.
What if I don't use Word Press?
E-Commerce platforms (aside from Word Press with e-commerce plugins) are provided by Network Solutions. For smaller and/or simpler websites, GoDaddy Web Builder is a good option. Be sure to purchase the Business Plus package to have access to all the functionality, especially SEO and email forms. Another option is Wix.com, which is similar in capabilities. Square Space is also a fully-responsive platform and can be expanded as an e-commerce. However, it is cloud-base with fair limitations in regard to layout and design, despite the very attractive themes. As a cloud-base platform, there is very limited to no access to the source code so customization can be an issue.
Pros and Cons of Mobile-Responsive Website CMS Plaforms
Pros
:
– Full responsiveness guarantees your website will not to be affected by Google's new guidelines.
– The investment will carry over multiple years.
– Most responsive platforms are expandable and flexible for updates, additions and additional development.
Cons
:
– If customization is required, you need professional design and development. The basics are fairly easy but any development and customization beyond a basic website can be very complex.
– Layout options can be limited as you have to allow your website to be scalable. This means elements will need to move relatively freely to adapt to various platforms. Keep the design structure functional and avoid busy or scattered page content.
Why should I be concerned?
While your website and its search optimization will continue to function, it is simply a matter of time before it will be affected both by rendering on mobile and loose its ability to be found on Google. So, you need to carefully weight the investment of a new responsive platform, in relation to where your visitors come from. Google Analytics and Webmaster Central (which your website should have no matter what) will be able to assess the proportion of visitors coming from mobile devices. In the long run, it is feasible that non-responsive websites will no longer be supported by most browsers. Until that fateful day happens, look at it this way: if half or more of your website traffic comes from mobile phones, do it now. Not only mobile users will get frustrated and you may loose sales, the other pitfall is that Google will de-prioritize your search results and will pass it to the next competitor that is responsive, regardless how effective your website SEO may be. If less than half of your traffic comes from mobile phones, the urgency is not as strong. However, your search results will be affected in the same manner.
Eric Y. Francais, Principal, e-outbox, LLC Website Design & Digital Marketing