MEMBER INITIATIVES: BOOST FOR BUSINESS and HELP FOR CONSUMERS DURING COVID-19 CRISIS

The following Chamber members have special programs in place to help businesses and consumers during the Corona virus crisis.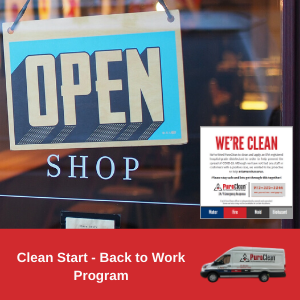 PURO

CLEAN/ESSEX 

CLEAN START - BACK TO WORK PROGRAM 10% DISCOUNT FOR NECC MEMBERS
Commercial Deep Cleaning for Peace of Mind
Why Should You Consider Deep-Cleaning Services when You Reopen for Business? PuroClean's RapidDefense™ deep-cleaning program uses the CDC guidelines for cleaning and the application of an EPA-registered, Hospital-grade disinfectant to help minimize the risk of pathogens spreading. Keeping your business location clean can play a crucial role in reducing the spread of germs and other harmful microorganisms after reopening your business to the public. Potentially infectious biological materials such as COVID-19 or any other virus can pose a threat to human health. Professional deep-cleaning is the answer to help you maintain a safer environment for your customers and employees. Find out more - 
Clean Start Program for businesses
,
MINUTEMAN PRESS CALDWELL INITIATIVE BOUNCEBACK CALDWELL: TOGETHER WE CAN HANDLE THIS
Bounce Back Caldwell serves to offer two free services to support Caldwell and surrounding communities as we all find a way through these unprecedented times. First, we are distributing a COVID-19 awareness and prevention posters at no charge to all businesses in Caldwell and other nearby towns. Second, we are providing a free local advertising forum to stimulate business as we overcome the economic effects.
Sign Up TODAY and Order your FREE COVID-19 prevention poster. Or click HERE to find out more about our new program. We offer free curbside pickup or drop-off, with no close contact. Our staff will not risk jeopardizing themselves or your staff. For more information click on the link above or call us at 973-403-0146 
PHASE:3 COVID-19 RELATED PRODUCTS READY FOR DISTRIBUTION OR IN PROCESS OF MANUFACTURING
As New Jersey businesses plan to get back to work, the health and safety of employees and customers is paramount. PHASE:3 offers:
Sanitizer stations and accompanying sanitizer
Face Shields – we currently hold these in inventory in Fairfield.
Plexi 'sneeze' barriers for retail / schools / offices / gyms.  Standard sizes are shown in the flyer, but we also design/manufacture custom sizes/shapes.
Face masks of all types / price ranges
Visit their COVID-specific website that shows some of these products, and features free signage templates that Phase 3 designed that anyone can access / download.  Or contact Chamber member Michael Monk at Michael.monk@phase3mc.com
C3WORKPLACE OFFERS PRO BONO SERVICES, TRAINING, AND EVENTS
Free Zoom set up and training. Contact Kelly Louro for a link and training session: Zoom Set Up and Training
Each Thursday morning at 9am we are hosting a free Virtual Networking & Mastermind via Zoom. Join in the conversation now
Free training on: QBO, Microsoft Office Suite, WordPress, etc. Let us know and we will connect you – initial session is free.
Free business continuity strategy sessions. Click here to book your Zoom call with Donna.
We will be offering a 3-month free subscription to Earn More Online. More details to follow.
Monthly webinars: This week's topic is: "How to Run & Grow Your Business Remotely." Register now. Contact us for a recording of the session if you were unable to register in time.
TOAST: SAVE LOCAL RESTAURANTS – TAKE PART IN RALLY FOR RESTAURANTS
We all have our favorite eateries around our area, a special restaurant, café, bakery or bar in our local neighborhood. Due to the COVID-19 crisis, restaurants are suffering a dramatic decline in sales which could mean running short of cash to support day-to-day operations and staff wages. Restaurants operate on thin margins, which make it particularly challenging to recover from this situation.
Rally for Restaurants is a grassroots movement built out of a need to support the restaurant industry through this incredibly uncertain time. Rally for Restaurants was started by Toast, provider of point of sale, front of house, back of house, and guest-facing technology for the restaurant industry.
To join the movement, simply buy a gift card to your favorite restaurant. By doing so, you'll support a small business in desperate need of short-term financial support.
We are offering a best-match program for couples who are being forced to reschedule their weddings due to COVID-19 and losing out on their videographer and/or photographer retainer. http://www.electriclovestudios.com/covid19-weddingassistance
If you are a Chamber member and you have a program or offer specifically made to help businesses stay in business during the COVID-19 crisis, please email the Chamber at email@northessexchamber.com and tell us about it.
CHILDCARE SERVICES FROM YMCA MONTCLAIR
The YMCA of Montclair is offering full-day licensed emergency childcare to families of health care workers, first responders, and other essential personnel who need care for their children during the coronavirus pandemic. The Y has temporarily opened its Geyer Family YMCA facility to provide care under the supervision of experienced, nurturing childcare staff. Families do not need to be YMCA members to utilize this program. Families can register for days as needed.
Locations, ages, and operating hours:
• Geyer Family YMCA 159 Glenridge Ave., Montclair
• Ages 3 months-13 years old (if your child has special needs, Y staff must review on a case-by-case basis to determine eligibility for care)
• 6:30am – 7:30pm Monday through Friday
The State of New Jersey is currently covering the cost of childcare for essential workers, regardless of income. For more information, visit the state's emergency childcare website.
To register as an essential employee who needs childcare, visit the registration page and select your county.
Applicants will be contacted by one of the state's Child Care Resource and Referral Agencies within two business days to discuss the next steps. Additional documents may be requested from the State.
For questions about enrollment, contact Justine Biendon, Child Care Director, YMCA of Montclair at jbiendon@montclairymca.org.