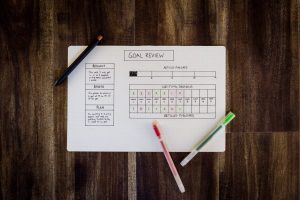 With February coming to an end and a new month on the threshold – here's a friendly check in. How are your 2020 goals holding up? Remember, a new year isn't about starting over but upping the ante. It's about making this year better than the last.
It's easy to get derailed – especially for business owners. You're a special kind of busy.
That's why we'd like to help you stay accountable to the biggest goals you had on your list. And if you didn't set any goals, we're here to help with that, too! Here are 7 tips for keeping a sharp focus on what matters to you most… (Read More)
1) LEARN FROM LAST YEAR
We are and always have been major supporters of documenting our business practices. Whether it's keeping account management journals, to keeping a running list of our goals, achievements, lessons, and to do's. So, for our first step this year – we're looking back over the past 12 months. What worked, what didn't, and what was left undone. If you're anything like us, a new year doesn't mean everything that came before it disappears. We're about expanding our empire, not starting from scratch.
2) SET (AND REACH) ONE GOAL PER MONTH
Big or small, having a goal is the key. And one that we document and strive for. Whether it's making 20 account management calls, attending 2 networking events, or simply going through an old filing cabinet and making room for the new, having at least one goal per month is a great way to keep things moving. And it's OK if the goal isn't world-changing. One step at a time is miles traveled before you realize it.
3) INCREASE CUSTOMER LOYALTY
This one isn't new for 2020, but something we strive to focus on all the time. The title may also be misleading, as loyalty is something we see as a two-way road. Apart from striving to provide our clients with the above and beyond service they've come to rely on, we want to make sure that we continue to offer cutting-edge information and the broad business education our clients need in their daily work lives. We believe that as long as we keep up on our end, our clients will recognize the value in our business, thus creating the loyalty chain.
4) MAKE SURE TO USE YOUR VACATION TIME!
This one is very important to us. Our staff here at C3Workplace is our most precious commodity. Without the hard-working admins (LINK TO Remote Executive Assistant PAGE ON WEBSITE) behind the scenes helping to expand our reach and bring our clients up to higher levels, C3Workplace would be less bright, less vibrant, and less valuable as a whole. So, we want to make sure that hard work is balanced out by vital time off to be with friends and family. Be sure to ask us about our upcoming vacations, or how we plan to spend our holidays. Time away is vital to avoiding burn out. Hopefully you add this one to your list as well!
5) MAKE TIME FOR SPRING CLEANING
Sure, this can be taken in one of two ways: 1) literal cleaning in and around your office space. Are there files or papers or just general clutter in your workspace that you've inadvertently evolved a blind spot for? It's totally OK – it happens to us, too – that's why we make it a point to focus on it! Clear that space out and get rid of the clutter. You'll be surprised at how physical space can open up your mind.
Or 2) going through your old business processes and cleaning out the old, the outdated, or the dusty ways of doing things and learning to take a new approach. Whether it's employing new technologies or finally deciding to purchase that software we know will help things run smoother. Take a good hard look at how you run your back-end and spruce it up a bit. Who knows what dusty corners will be revealed.
6) TAKE THE TIME TO GIVE RECOGNITION
In our office, we love giving kudos! And we'd to pass on the tradition. Look outward to your clients, your friends, and your colleagues to make sure the small moments don't fly by. If you see something worth celebrating, don't be afraid to give a shout out. You never know how much of an impact it may have upon a person's day. And we can't wait to see what good we can celebrate in the months ahead.
7) CONTINUE TO LOOK AND PLAN AHEAD TO THE NEXT YEAR
Much as a year is a cycle of growth and renewal, it's important to keep in mind what's worked and what we plan to do in the future. We like starting a new year off by looking back, so all year long, we need to make sure we're looking ahead and anticipating that review. Number 1 on this list required that we spent the year documenting our hard work, we would be remiss if we didn't keep our tradition alive this year as well. Keeping ourselves accountable is one of the most important aspects of growing as a business. If ever there is growth to be had, it's by self-reflection. So, we'd like to make sure we stay true to ourselves, and our clients, by keeping C3Workplace accountable, all year long.
We love to think of the new year as both a time of reflection and a time of action. With so many exciting prospects on the horizon and so many plans in the works, we want to make sure that we remain accountable, not just to ourselves, but to our clients and community. And hopefully we can help you as well. Whether we can help you grow your business or help you to connect with your community on a higher level, we'd love to make this year your best yet.
What big plans do YOU have for the year ahead? We'd love to help you achieve them.