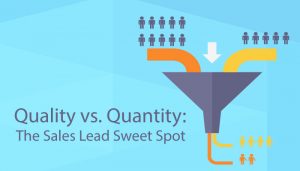 One philosophy in marketing is that more is better. Some feel that the only way to increase market share and win new clients is with large numbers – large number of e-mails subscribers, large number of LinkedIn connections, large number of twitter followers and large number of prospects.
This might be a good strategy unless you are concerned with sales spending a lot of time chasing leads that are not likely to go anywhere.
Conversely, focusing solely on quality may not bring enough when trying to build a client base. For a start-up in particular, when cash flow is so crucial, it's hard to justify being highly selective with regard to how leads are acquired.
It's all about balance. Some quantity of leads, prospects and clients are needed to flow through your pipeline consistently. However, it's important to make sure they are the right quality or value.
Marketing functions to build awareness, generate leads, and convert prospects. Leverage multiple marketing tactics to contribute to each one of these goals and guide prospects through your sales funnel. Create a balance between quantity and quality by using the following tactics:
Have a clear understanding of your target audience. Research your audience and develop a clear picture of who they are, what they like, their buying process, etc.
Pick promotional methods wisely. Identify the most effective methods to promote your business based on the profile of your target audience. Your marketing tactics might include speaking engagements, trade shows, pay per click and traditional advertising.
Leverage social media to connect and engage. Attract and engage your audience through social media. Funnel them through your process to become leads.
Use email to build rapport. Cultivate relationships with consistent communication using email and help guide them from lead stage through sales.
Develop a quality blogging strategy. When done correctly, blogging is an effective way to drive targeted traffic to your website. Focus on quality content over a high number of less thought out blogs.
Use a combination of traditional and digital marketing. Make sure all the marketing efforts you put in place work together with consistent messaging and look and feel. For example, direct mail is still an effective marketing tool and works well with online efforts. Whatever you use, drive people to take action.
Finding a balance between highly targeted tactics and general appeal approaches will give you a good flow through your sales funnel with quality leads.