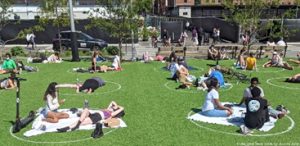 Submitted by: Allison Teixeira, Catering Coordinator/Event Planner, Sunrise Kitchens ShopRite of West Caldwell
As some of our communities begin to plan and hold events and gatherings, be it a planned or spontaneous event, indoors or outdoors, the latest official guidance from the CDC advises to continue with social distancing and the use of masks.  After months of quarantining and isolating and Zooming, we are all ready to do some socializing, especially now with the warmer weather. Many of us are getting desperate and have reached the limit of what we can do with virtual happy hours. We have come up with some creative ways for some meaningful interactions with friends, options like driveway drinks, or park bench meetups, or backyard cookouts, etc.
If you're looking to plan a summer event with friends and family, the following are some tips for consideration:
Socialize outside, in your backyards, neighborhood parks, etc.
Go easy on yourself, no one expects elegance right now, however, feel free to add some kind of creative touch, like luminaries.
Keep gatherings small. The number of guests should also depend on how much space you have. If you're a guest, don't bring a plus-one who wasn't invited.
Consider having friends over at designated time slots
Wear a mask
Practice social distancing as much as possible
Make it a BYOB and BYO Food and assign someone to serve shareable items
Consider using all disposable items and individually wrapped utensils
Book a food truck or cocktail truck to park in front of your home. Guests can get their fixes, and enjoy them while social distancing.
If celebrating a birthday with a cake, have a separate oversized cupcake with a candle for the celebrant to blow out.
Celebrate with a social distance picnic. Guests pack up their picnics and meet at a park to spread out their blankets and celebrate the guest of honor from a safe distance.
Consider organizing a "tailgate social event". Select a location and have guests pull up in designated spots with their open tailgate. Host can provide a grill for everyone to use and guests will BYOB and BYO food.
As the host, communicate ground rules for guests. Set expectations from your guests ahead of time and the precautions you will have in place for your guests. Don't take it personally if a friend isn't ready to get together. Everyone's comfort and risk tolerance should be respected.
Set up a hand-washing/sanitizing station with gloves, hand sanitizers, soap, wipes, etc.
Even modest gatherings in these stressful times will take lots of planning and effort, but a gathering of friends and family can ease anxiety. We are all in this together. Maintaining good manners and graciousness will help us through these difficult times.
Sunrise Kitchens ShopRite of West Caldwell is here to welcome you back as we continue to provide access to exceptional catering. Thank you for your continued loyalty as we navigate the current health situation in our community.  As always, we appreciate the opportunity to be part of your special occasions and your everyday meals. Let us know how we can assist you with all your planning needs.
Allison Teixeira
Catering Coordinator/Event Planner
Sunrise Kitchens ShopRite of West Caldwell
Tel: 973 575 1770 Ext. 3601
Allison.teixeira@wakefern.com