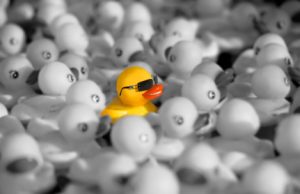 Submitted by Holly Kaplansky, Owner of Red Wagon Consulting
In any industry, it can be a challenge to define a unique selling proposition, but it is an absolute necessity in order to stand out from the crowd. How you differentiate yourself helps lure prospective customers to your door and away from competitors. Your unique value proposition will depend on your industry and your business and it may be a combination of values.
Customer Service.  The problem with differentiating yourself based solely on customer service is that everyone claims to offer great customer service. If service is really going to set you apart, you need to get more specific. Make it easy to do business with you by providing easy access and availability. Be transparent with your customers about things you do and why. Explain when your product or service will be delivered and what's involved in getting it to them.
Value, Not Price. Price is often the first area that companies will try to compete on, but it rarely works, and your bottom line can suffer. Instead, use a combination of qualities to prove value to your customers such as quality, customer service and expertise.  Most importantly, communicate those qualities.
Be Authentic in Your Message. In this age of electronic media, communications can seem impersonal. Businesses often use templates and themes to create their content. As a result, messages can look and sound the same. Invest in content that is customized to appeal to your target customer.
Be Authentic in Your Relationships. Leverage the opportunity to show each of your customers that you care about them and what they want. Customers are real people and they respond best to companies that treat them that way.
Offer Consistency. Whether it's in your marketing message, in the products you deliver, or in your relationship with customers, be consistent. It takes patience, but a consistent effort works time and again in making companies leaders in their industries.
Promote Longevity and a Track Record of Success. If you have been in business longer than your competitors, reflect that in your messaging. Also, a proven track record is a great way to differentiate yourself. Use testimonials to communicate this area of success.
Talk to Your Customers. Our customers know what sets us apart from our competitors…what makes us different & unique.  Having a heart to heart will give us great information about our business, and at the same time build and deepen the relationship.
Take a hard look at your business and analyze your competitors. Then it will become clear how you can differentiate yourself from your competitors on one or many levels.
For help distinguishing yourself from your competitors and communicating it to your clients, contact Holly Kaplansky at Red Wagon Consulting.