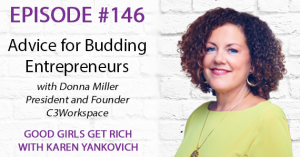 This episode of Good Girls Get Rich is brought to you by Uplevel Media CEO and LinkedIn expert, Karen Yankovich. In this episode, guest Donna Miller shares with Karen her advice to budding entrepreneurs. Donna Miller, the president and founder of C3Workplace, is a business and community leader, speaker, educator, and entrepreneur who is passionate about seeing small businesses thrive.
About the Episode:
The COVID-19 pandemic has made life more difficult in many ways, and it can make it even more confusing for a budding entrepreneur to know where to begin.
Donna recommends that all entrepreneurs start with a business plan. She also recommends that, from day one, entrepreneurs shouldn't charge as if they are the only ones doing the work, but rather as though they were paying someone else to do the work for them.
Every decision the entrepreneur makes should be data-driven, but it should also be filled with intuition. Yes, the two can go hand-in-hand! It's also important that entrepreneurs surround themselves with a group of people who will support them – this doesn't mean telling them what they want to hear but rather what they need to hear.
Don't let Covid hold you back from achieving your dreams. Hear more from Donna by listening to this episode!
Episode Spotlights:
Where to find everything for this week's episode: karenyankovich.com/146
Introducing this episode's guest, Donna Miller (1:53)
C3Workspace (3:23)
Shift mindset of productivity (11:40)
What do you want your life to look like? (13:47)
Donna's story (14:44)
Donna's advice for budding entrepreneurs (17:29)
Make data-driven decisions with intuition (20:09)
Build your tribe of people who will support you (24:50)
How Covid has shifted things for Donna (29:12)
What's next for Donna and C3Workspace (31:28)
Where you can find Donna (32:45)