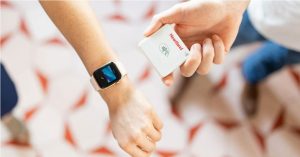 Submitted by: Bill Gogerty
Heartland Payment Systems
william.gogerty@e-hps.com
(973) 803-3860
www.heartlandpaymentsystems.com
In a recent study conducted by Forrester and the National Retail Federation, 94% of retailers expect the use of contactless payments to grow over the next 18 months. While not surprising, it is a reason to invest in the most up-to-date contactless payment technology for your customers and industry.
Let's take a look at a few contactless payment solutions that are more relevant than ever and how they can help you evolve your business in 2021.
Online Ordering
2020 has seen a huge acceleration of ordering products online - with 46 million customers choosing this option, according to Mercatus' 2020 Grocery shopping survey. Expect those numbers to only increase in every industry. It's important to know what Online Ordering may look like for your business, too. This may take shape for you in the form of e-commerce stores, ordering food online through your favorite restaurant, or "dropping" items into a website shopping cart. Business moves fast, and giving your customers an online shopping experience ensures contactless transactions and saves you time.
QR Code Technology
Back in 2014, Statista conducted a study on QR code usage over a three-month period. According to the study, 26% of respondents said they had used a QR code at some point, whether that's to pay for something or gain information on a product. A technology that businesses might not have known how to use in the past, QR codes are expected to now see 11 million households to scan a QR code in 2020, also according to Statista.
Digital Wallets
Digital wallets, also considered E-wallets, are one of the easiest ways to make or receive payments with safety and convenience. Digital wallets operate fluidly with a standalone terminal, using tap and go functionality rather than handing over or inserting a card, staying connected to the physical terminal itself. This form of contactless payment taps into a consumer's most-used piece of technology, their smartphone, allowing the transfer of funds using the cell phone as the processing mechanism.
Digital Invoicing
Digital invoicing provides the same experience as a regular, paper-based invoice - except it is totally contactless and performed through the cloud or online. Not only does digital invoicing streamline business operations, it also reduces contact for the merchant and the consumer. Think of a lawn service company who can complete a job onsite, but instead of tapping on the door to take payment, sends a digital invoice for payment through their preferred device. You don't have to make it back to your office and enter info from a paper invoice; digital invoicing virtually makes your office anywhere.
Virtual Gift Cards
No longer a seasonal shopping trend, gift card programs are growing in necessity for consumers because of the flexibility they have to use in-store or online virtually. They are not limited to one industry, either. Typically perceived as a restaurant or retail purchase, industries such as service, travel and automotive are adding gift card programs to their product offerings. Virtual gift card options eliminate the need for person-to-person contact and keep everything conveniently stored on the cloud. These are prime tools to add as a "bonus" to your customers, helping with retention and added profit.
Guest Engagement Apps
Businesses can retain their customer base and increase the average transaction with a loyalty program that is easy to redeem from a mobile device. Tracking engagement also provides the added benefit of gaining valuable insights into customer behavior to maximize ROI and secure repeat visits. Consumer behavior will continue to evolve, but businesses can build customer trust, adapt to the needs of your industry and positively impact your bottom line with contactless payment technology.