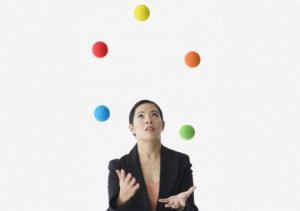 Submitted by Holly Kaplansky, owner of Red Wagon Consulting. Holly uses her corporate and entrepreneurial experience to guide other business owners on the path to greater success. She can be reached at Holly@redwagonconsulting.com
After years of working for big companies, I struck out on my own. I learned early on that it takes time and patience to build a business. What I've also learned is that being a small business owner is a juggling act. Small business owners play the role of customer service, CFO, CEO, the sales team, head of personnel, and more. Things would happen in my business that were out of my control that added to the complexity of the situation. But somehow I've always been able to continue to deliver to my clients.
Honestly, undertaking multiple roles is not only gratifying but has improved my skill sets. I use several tactics to manage all these roles.
Prioritize. Decide which tasks and obligations are most important or pressing and layout a plan to manage them. If you can't complete all of them, prioritize those that will have the biggest positive impact on your business.
Use resources at your disposal. There are certain things that cannot be delegated to others. For me this includes interviewing job candidates, and training new employees. But there are plenty of things I can delegate or outsource. Don't underestimate what your employees know about your business and what they can contribute. Look for external "partners" that you can call upon to share the burden.
Automate. As small business owners, we have so many things to do that we often spend all our time in the day-to-day running of our business instead of actually growing it. Automate as much as you can to free up your time. Leverage technology and use small business management tools that automate work-flow as much as possible.
Stick to processes. Documenting procedures makes it possible to keep things running smoothly even when someone is no longer with the company. With the right processes in place, anyone with the right skills can be tapped to step in to help.
Leverage your budget. Budgets act as a guide to help your business grow. It also lets you know how much you need to sell in order to cover overheads and meet your goals. Budgets are also a great tool to help you set priorities.
In the end, being a small business owner is a juggling act. The trick about juggling – both feet are always firmly planted on the ground.