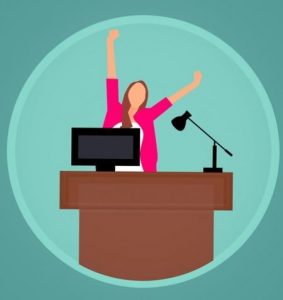 Considering that first step toward optimizing your workday but are unsure where to start? Delegating tasks to an assistant is the best way to streamline your workload, get professional quality work and efficiency, and up level your business and image.
You don't have to hire a full-time staff to reap the benefits of delegation. In fact, it's much more profitable to start small and work your way toward a level that makes sense for you and your business.
With that in mind, here are some of the most common (and excellent starting-point) tasks that business owners delegate that make a BIG impact on their day:
CRM – Set up and Management
If you don't have a CRM (Customer Relationship Management) system yet, you are missing out on a ton of opportunities. CRM softwares, such as Zoho or SalesForce, allow for automation and communication streamlining that can easily knock out hours of tedious work. Hiring an assistant to set up that system and create a process to maintain notes, data, scheduling, and other tasks is the perfect first step in getting a real handle on your database and client communication.
Project Management Software
Too many "to-do's" living in your head with nowhere to go? Not having a project management system means that important tasks are falling through the cracks. There are excellent programs, such as Asana, which keep track of your to-do list and projects. You can set due dates and view progress. Assistants are a great resource for setting up and managing these systems without you having to spend a ton of time on them. They do require set up, and a truly great assistant can build the most efficient systems.
Up Leveling Your Staff – Coaching/Training/Remote Management
If you already have a staff but have trouble finding the time to effectively manage them, you can hire someone to do that for you. Leading a team requires a lot of time and effort to dedicate to coaching, training, teaching new skills, and making sure they are working at their highest and happiest levels. Delegating management check ins, training sessions, or one-to-one coaching is an excellent way to ensure your staff is being taken care of and working at their greatest potential.
This one is a no-brainer: as a business owner, you SHOULD NOT be answering your own phone. If you're playing the game right, your time should be spent on only the most important tasks, and phone answering is not one of them. A live person is always ideal to handle phone answering, client inquiries, and even some client check ins that don't require your personal touch. Let someone else take the time so you don't waste yours.
In our experience, this is always the most rewarding task to let go of for business owners. As long as you set some ground rules, have some parameters and guidelines, handing off appointment scheduling and management to someone else truly is bliss. We even have some excellent tricks up our sleeves to make calendar management easier on your eyes and mind.
Social media is by far and away the BIGGEST time trap we've seen business owners fall into. With so many different options out there, many people are unsure where to focus their time and effort. Delegating your social media ensures that your image and messaging remains consistent and professional and that focus is optimized to reach your biggest audience.
Numbers can be scary if you don't know what you're doing and that fear leads to avoidance, which ultimately leads to disaster. Outsourcing your bookkeeping is the ultimate way to relieve the stress of finances while ensuring professional quality work. At C3Workplace, our process is simple: a Certified QuickBooks Pro Advisor will provide a comprehensive overview of the best course of management accounting action. From there, we can help record transactions, handle cash flow, and keep steadfast account records. Or, we can show you how. Ah, sweet relief 😊
Again, you DO NOT have to hire a full-time staff to reap the benefits of delegation. Start small, delegate small tasks to start and work your way toward a level that makes sense for you and your business. Once you realize how much more time you have to dedicate to building revenue, you'll wonder why you didn't start sooner.
If you're interested in learning more about delegating and how to get started for YOUR business, check out our popular webinar, "Let Go to Grow: How to Effectively Delegate" or, find out more about how delegating can help you today.