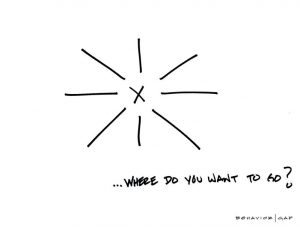 If you are not asking yourself questions you have never asked before, give it a try.
As a financial planner, it is a lot of fun when a client is comfortable enough to discuss with me their "pie in the sky" or "crazy" dreams and goals.
This blog is an invitation to truly take some time for yourself revisit some old goals, and possibly find new ones.
The world has long been a noisy place. Add the uncertainty brought on by the pandemic and virtually every person on earth has been affected in one way or another. Mayo Clinic has published several resources about navigating the additional stress brought on by media, isolation, uncertainty, and worry during the pandemic. * With everything the last 18 months have brought, have you asked yourself some questions you haven't asked yourself before? Here is another chance to stop and think about you, and what you want, coming out of the pandemic.
One way to do this is to create your own quiet time and safe space to consider your current situation. Consider how far you have come and consider a possible next step. I want to invite you to have some fun and think outside the "normal" goals and to spend some of that time dreaming differently than you normally do. This can be as simple as time spent with family and loved ones, a change in career, a new side gig, a new hobby, or where you may want to live now or in retirement. Nothing should be off the table when you are creating thoughts in your mind or on paper (preferably written down – "the shortest pencil is better than the longest memory"). You can always throw out anything you think is too "silly" or you may just find that certain ideas keep coming back to you.
Simply exploring ideas alone or with your family does not mean you are committed to anything, but we hope you feel empowered. You may find you have more choices than you think and possibly stumble across the right next step for you at this time.
As we have recently re-discovered, changes in life and career can happen quickly. No plan is absolutely perfect, but you can always re-adjust in small (or bold) ways that can change your life. Let us know if we can help in any way to create a space for you to discuss your future.
* https://www.mayoclinic.org/diseases-conditions/coronavirus/in-depth/mental-health-covid-19/art-20482731