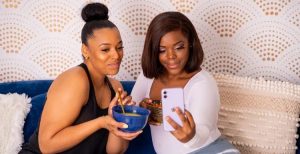 Submitted by:
Veronica Wheat, Chef V
897 Bloomfield Ave.
West Caldwell, NJ 07006
chefv@chefv.com
866-709-6060
You know it's time for a new year – same you, but better!
Perhaps you haven't been eating healthy but you are ready to make a positive change. Is your belly is chronically bloated? Does it take you a couple of cups of coffee in the morning to wake up from the dead? And when the caffeine eventually wears off, your mental clarity and energy are foggy and sluggish, respectively. Your skin is bumpy and dull, and your sleep patterns are erratic. Let's make the new year's you the same you but better!
But some people are intimidated by detox diets. While the thought of coming out the other side of a metabolic reboot sounds appealing, you don't want to be miserable doing it. "Detoxes" can mean different things to different people. Herbal supplements, colon cleanses, infrared saunas, digestive enzymes, and of course, juice cleanses.
If you're thinking about doing a detox, here are some common misconceptions.
Detox Myth #1: It's Too Hard – Not True!
To some people, the phrase "detox" is synonymous with starvation. But a detox shouldn't be deficient in nutrients, and it certainly shouldn't be a lengthy, strict fast. While following an intermittent fasting schedule is great for your health (I do it, and so does Brandon, my husband.), not eating anything for over 24 hours could do you more harm than good.
With my 21 Day Detox, you choose between one, two, or three intervals of a 3 day cleanse. During the 3, 6, or 9 days, you're on a calorie-restricted diet. But you're getting all the nutrients you need to detoxify vital organs and lose weight—without feeling deprived.
On these cleanse days, you drink 4 servings of my Organic Green Drink (16 oz. per serving), a smooth-as-silk cold-blend of 7 certified organic green leafy veggies. You also get 2 packets of my vegan-friendly protein shake (about 20 grams of muscle-building protein per shake) and one Detox Soup for dinner.
Essentially, these cleanse days are a liquid diet. But there's enough protein and fiber to help your energy levels remain steady and prevent cravings.
Myth #2: You Can Only Have Juice Or Raw Kale – No, you can have delicious soups and protein shakes as well
Many people associate cleanse or detox diets with juice programs. If you ever come across a program that offers only juices, whether it's a 3-day program or a longer one, then run.
Here's why: most juice programs, even if the drinks are low in sugar (unfortunately, most juice detoxes are very high in sugar), they are woefully deficient in protein and fiber. Pressed juices don't contain the fiber from the fruit or veggie. And when you have no fiber, your blood sugar levels fluctuate. The result is nasty mood swings. You really need protein, fiber, and even some healthy fat to keep you full and maintain your blood sugar at a steady level during your detox.
(By the way, my Organic Green Drink contains only 6 grams of sugar per 16 oz serving, keeping your energy level rock-steady.)
As for the non-cleanse days — either 18 days, 15 days, or 12 days depending on how many 3 days cleanses you choose during the 21 Day Detox, you get to enjoy entrees like nachos, wild salmon, mac and cheese, and pesto lasagna, just to name a few.
How can you mack on mac n' cheese when you're trying to detoxify your body? When you order my 21 Day Detox, you get access to my recipe book, "Making Healthier Easier," a PDF download that teaches you how to make your favorite entrees healthy (I use nutritional yeast as a cheese substitute.
I also provide you with an Eat This/Not That chart, and a Healthy Portions guide. When you're eating dozens of delicious meals that you can take right from my book, and learn exactly what you should eat during a 21 Day Detox, 3 weeks goes by real quick.
Myth #3: You Can Only Drink Water And Detox Drinks – No! How about a Watermelon Slush?
While I do recommend eliminating caffeine during a 21 Day Detox (for all 21 days), that doesn't mean you can't enjoy other drinks.
On your non-cleanse days (again, it's either 18, 15, or 12 days, depending on how many 3-day cleanse periods you want to do), you can use my recipe book to easily create craft "mocktails." How does Watermelon Slush sound? It's perfect for hot days when you need something sweet and refreshing. Or how about Creamy Green Smoothie, a delicious, filling blend of avocado, spinach, kale, dates, lemon, chia seeds, and cinnamon … doesn't exactly sound like torture, does it?
Myth #4: You Can't Have Any Sugar Or Dessert
Ideally, starting from right now and every day for the rest of your life, you will eat a low-sugar diet. But there's a misconception that when you're doing a detox, you can't have any sugar. Technically, that's not true. All veggies, even green leafy ones, contain a tiny bit of natural sugar.
Sure, you shouldn't eat anything with added sugars while you're doing a 21 Day Detox. But even on the non-cleanse days, you still get to feast on sweet-tasting things like berries and even a date or two.
And the best part of my 21 Day Detox is that on non-cleanse days, you can have your cake and eat it, too. That's right. In my cookbook, you'll find recipes for Triple Layer Cheesecake, Acai, Chia Seed Pudding, Chocolate Avocado Mousse, and Vanilla 'Milk' Shake.
Again, it doesn't sound exactly like torture, does it? The reason you get to eat like a King while eliminating toxins is that you'll be swapping out high-inflammatory ingredients such as dairy, for ingredients that aid in the body's detoxification process, and cause no inflammatory reaction.
Myth #5: It's Expensive – No.
It's true that some Detox programs cost thousands of dollars. But with my 21 Day Detox, you can easily lose 30 pounds or more, starting at only $249. That's less than $12 a day. Not bad for the following:
4 Organic Green Drinks, 2 Protein Shakes and 1 Detox Soup every day during your 3 Day Cleanse interval
My Recipe E-Book, Making Healthier Easier, which includes a healthy food pyramid (not the ridiculous one the federal government uses); a list of cleansing approved foods; detox drinks and smoothies; healthy breakfasts; tasty snacks and apps; super soups; sensational salads; easy entrees and sides; sweets and treats
Healthy Portions Chart and other handy printouts
Unlimited email and phone support
If you've been thinking about going on a detox diet but you're confused, scared, and don't know how to get started, you've come to the right place.
I'll hold your hand every step of the way. I promise you will transform your body and mind (maybe even your spirit) when the 21 days are over. I also promise you won't feel like you're starving or miserable. It will take some dedication on your part. You must be willing to do some healthy meal prep and cooking on your own. But my recipes are really easy to follow and don't take long to make.
And if you've never done a 3-day calorie-restricted liquid diet cleanse, it might seem a little challenging to go that long without any solid food. But with the protein shakes and detox soup dinner, you'll do just fine and you'll be buzzing with natural energy after the 3-day interval.
Get Started. Experience the Chef V Transformation
Think how quickly the last 3 weeks or even the last 3 years of your life have flown by. You can do this. It's not nearly as hard as you think. After the 21 days, not only will your clothes feel much looser, you'll smile at your new slimmer physique when you look in the mirror, your skin will feel smoother, your thinking will be sharper … and overall, you're going to feel like you're living your best life.
What do you say? Ready to get started.