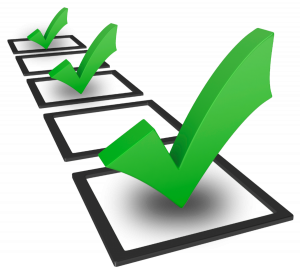 Connell Foley is pleased to offer here our annual "Employer To-Do Checklist" to help businesses get a jump start on 2023. We will be holding a hybrid presentation on January 18, 2023, to explore these items in more detail. See the Save the Date below and be on the lookout for an event invitation in the coming weeks.
1. REVIEW AND UPDATE JOB DESCRIPTIONS. Job descriptions outline the necessary skills, training and education needed to perform a job and are critically important in furtherance of an employer's compliance efforts when interviewing candidates; properly classifying employees as exempt or non-exempt; engaging in employee performance management; and addressing requests for workplace accommodations.

2. DEVELOP A PROCESS TO TIMELY RESPOND TO INTERNAL EMPLOYEE COMPLAINTS. When faced with employee complaints regarding harassment, discrimination, or retaliation, employers have an obligation to investigate the underlying facts and take remedial action. To fulfill this obligation, employers must respond promptly in determining who should investigate, how to document both the complaint and the response, who should be interviewed, how to maintain sufficient confidentiality, and whether temporary or permanent changes are needed to assure a safe environment. Having procedures in place avoids unnecessary delay and helps ensure an effective response.

3. IDENTIFY H-1B CAP CANDIDATES TO SUPPLEMENT YOUR WORKFORCE WITH QUALIFIED PROFESSIONAL EMPLOYEES. The H-1B program applies to employers seeking to hire nonimmigrant aliens as workers in specialty occupations. A specialty occupation is one that requires the application of a body of highly specialized knowledge and the attainment of at least a bachelor's degree or its equivalent. The intent of the H-1B provisions is to help employers who cannot otherwise obtain needed business skills and abilities from the U.S. workforce by authorizing the temporary employment of qualified individuals who are not otherwise authorized to work in the United States. The H-1B Cap Season (for 2023) requires registration beginning in March 2023. If selected after registration, H-1B petitions must be filed April 1, 2023. If approved (after registration and petition approval), the effective start date is October 1, 2023. It is important to identify current employees in F-1 OPT status, TN status, or pending hires graduating from U.S. institutions on F-1 or J-1 status who are eligible. If you miss the March registration deadline, you are not eligible to file again (due to caps and quotas) until March 2024.

4. UNDERSTAND DRUG TESTING FOR MARIJUANA AND WHAT "REASONABLE SUSPICION" MEANS. Now that recreational marijuana is legal in New Jersey, employers must reconsider policies and procedures regarding the use and possession of marijuana in the workplace, drug testing, and recognizing, as well as documenting, signs of impairment.

5. ENSURE YOU ARE PREPARED FOR A WAGE & HOUR AUDIT.  Both the state and federal Departments of Labor have stepped up enforcement efforts. Regardless of whether an audit is random or triggered by a complaint, employers should be prepared to demonstrate compliance with the wage and hour laws by producing payroll and time records, responding to information requests, permitting employee interviews, and providing job descriptions and other evidence to establish exempt status. Cooperation with reasonable inquiries is often the best response, but the ability to recognize when legal assistance is needed can be equally important.

6. REVIEW AND UPDATE YOUR SOCIAL MEDIA POLICY TO COVER NEWLY-EMERGING FORMS AND USES OF SOCIAL MEDIA. Employers must be aware of the ever-changing landscape of social media and update their policies to reflect these changes. New apps and trends may affect the way your employees use social media during work time. Social media, confidentiality, harassment, and other policies may be impacted and should be updated accordingly.

7. BIAS AS BULLYING IN THE WORKPLACE AND WHY IT MATTERS FOR EMPLOYERS. Employers must understand bias and its impact on bullying within the workplace. While there is no anti-bullying law for employers in New Jersey, there is potential for actionable claims under other employment statutes, particularly where implicit biases drive bullying. This understanding is important for DEI across an organization and to avoid ambiguity and potential liability for employers. To protect their employees and the employer, employers should: (1) employ an anti-bullying policy defining bullying (include examples and scenarios); (2) enforce the policy evenly; and (3) require interactive training - to educate and inform employees on acceptable and unacceptable workplace behaviors and how implicit biases drive the latter.

8. PREVENT DISCRIMINATION IN THE FORM I-9 AND E-VERIFY PROCESSES. Employers are prohibited from discriminating against individuals based on their citizenship or immigration status or their national origin during the hiring, firing, recruiting, reverification of Form I-9 or E-Verify processes. Employers should develop, implement, and enforce nondiscrimination policies and conduct training to ensure that all employees (and their authorized representatives, such as those completing Form I-9 or creating E-Verify cases on their behalf) understand the rules. Employers should consider retaining legal counsel to review the Forms I-9 on file to ensure the company's compliance and avoid costly fines.

9. IMPLEMENT A PROCESS AND TRAIN SUPERVISORS TO PROPERLY ADDRESS REQUESTS FOR LEAVES OF ABSENCE. Employers must have a process to properly and confidentially address a request for a leave of absence and to administer any leave that is authorized. This requires being knowledgeable of the federal and state leave laws, knowing which of those laws are applicable to the business, and understanding the income replacement benefits that may be available to the employee on leave. It is equally important that all workplace policies are compliant and supervisors receive training on the established policies and procedures, as well as the applicable laws, to ensure compliance, protect employees' rights, and avoid costly litigation.

10. UPDATE YOUR EMPLOYEE HANDBOOK AND CONDUCT WORKPLACE HARASSMENT PREVENTION TRAINING. An employee handbook should be reviewed from a legal and administrative perspective on an annual basis in order to keep it up-to-date with new and evolving federal and state laws. In addition, employers are well-advised to conduct workplace harassment prevention training in an interactive and engaging manner while utilizing practical examples of workplace conduct and to reinforce the company's anti-harassment policy and complaint procedure.

Connell Foley's employment and immigration attorneys can assist your organization in "checking off" its compliance to-do list.