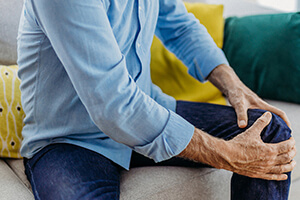 Submitted by:
Christopher Schmidt
Kessler Rehabilitation Center
771 Bloomfield Avenue Broadway Square West Caldwell
(973) 521-5554
CSchmidt@kessler-rehab.com
Did you know that knee osteoarthritis affects nearly 14 million adults in the United States1 per year? Or that meniscus tears are present in 60-90%1 of those with knee osteoarthritis? With symptoms ranging from knee pain, swelling, stiffness and limited range of motion, medication, injections, surgery and physical therapy are all commonly prescribed to manage knee pain. Medication and injections, however, may simply serve to mask your pain. Surgery can be costly and taxing on your body. Physical therapy, on the other hand, emphasizes a more holistic approach to the body with emphasis on education, pain management and strength and conditioning.
At first glance, it can be frustrating when you are referred to physical therapy for management of knee pain related to structural issues like osteoarthritis or a knee joint tear. Is the physical therapist going to magically reverse your arthritis or heal your meniscus? Shouldn't you address the structural problem head-on instead of just "strengthening around it?"
Not necessarily.
Surgery or osteoarthritis physical therapy?
If we dig deeper, a better question to consider might be, "Do I need to change the structure of my knee in order to resume the activities I enjoy?" There are several studies to suggest that abnormal findings on X-rays and MRIs can be common, even in persons without knee pain. In fact, a 2020 study2 of a population with a median age of 44 and no knee pain found that an astounding 97% of knees had abnormalities on MRI. In addition, when comparing physical therapy management to surgical intervention, there are many cases with similar outcomes.
Now, this is not to say that everyone with knee pain should get physical therapy instead of surgery. Sometimes, surgery is exactly what's needed to improve your overall quality of life. However, including a physical therapist on your health care team – before and after surgery – is beneficial, even without changing the structural abnormalities that are often presumed to be the problem.
If physical therapy isn't changing the "structural problem," what exactly is the benefit?
People are more than pictures, and pain is far more complicated than what that picture shows. X-ray and MRI findings can absolutely be helpful in developing a plan of care; however, they are only one piece of the puzzle. While physical therapy is unlikely to result in a change in the X-ray or MRI findings, it can identify and help modify factors contributing to your knee pain and functional limitations.
Focusing on your unique condition, a physical therapist can work with you to determine the following:
Health and lifestyle factors contributing to your knee pain
Activity modification so you can safely perform activities of daily living
Stretches and strategies to improve motion and strength
Swelling and pain control
How and when to appropriately get back to activities that cause you pain/discomfort
This combination can help patients to better understand their condition and develop a plan that assists in recovery. Doing all of this may greatly enhance your quality of life and ease the pain and symptoms you are currently experiencing.
Now, if you and your doctor determine that knee surgery is necessary, remember, physical therapy is a vital part of preparing for your procedure and recovering after it. Before surgery, we will work together to get you as healthy and strong as possible, which will enable your post-surgical recovery to be that much more successful and faster. Following surgery, we will focus on helping you to restore your strength, balance and flexibility.
No matter what, physical therapists are committed to helping you be as mobile, independent and pain-free as possible. Our goal is to build a relationship in which you feel comfortable asking us questions, are an active partner in your care and we're able to work together to ensure the best outcomes possible.
If you have knee pain, contact us today and experience the power of physical therapy.
References:
Bhushan R. Deshpande, BS, Jeffrey N. Katz, MD, MSc, Daniel H. Solomon, MD, MPH, Edward H. Yelin, PhD, David J. Hunter, MBBS, PhD, Stephen P. Messier, PhD, Lisa G. Suter, MD, and Elena Losina, PhD. The number of persons with symptomatic knee osteoarthritis in the United States: Impact of race/ethnicity, age, sex, and obesity (2017)
Horga, L.M., Hirschmann, A.C., Henckel, J. et al. Prevalence of abnormal findings in 230 knees of asymptomatic adults using 3.0 T MRI. Skeletal Radiol (2020)
By: Patrick Smith, P.T., DPT. Patrick is board-certified clinical specialist in sports physical and
orthopedic physical therapy, a fellow of the American Academy of Orthopedic Manual Physical Therapists and a treating physical therapist with NovaCare Rehabilitation in Philadelphia, PA.
Kessler Rehabilitation Center and NovaCare are part of the Select Medical Outpatient Division family of brands.