The North Essex Chamber Member Spotlight is a column that highlights one our members. Each spotlight is shared via NECC email and social media.
Your company can be the next Member Spotlight. Just complete and submit this questionnaire.

Introducing AZ Is Media, a consulting firm specializing in Social Media, PR, Brand Management, Website Development, and Photography, designed with your brand in mind. They deliver services that take start-up to mature brands "AZ Is" (as-is) and develop them to meet and exceed goals.
Their mission is to build creative client stories and help businesses and influencers grow their online communities. They offer brand content management and marketing to strengthen brand awareness through social media. They also provide website development and optimization that aligns with your brand needs.
President and CEO Amya (uh-my-uh) Zhanelle shares, "I enjoy having the opportunity to help people and share my expertise. When you understand social media from a personal and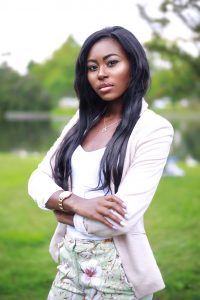 professional level you start to appreciate it more. You can tell stories, share memories, and connect with anyone, anywhere."
When asked what inspired the launch of AZ Is Media, Amya relayed, "I've grown up with social media and switching the perspective from personal to professional piqued my interest. There are few limitations when it comes to what you can do on social media and I enjoy helping businesses use their platforms to influence, educate, and inspire their followers."
What makes AZ Is Media stand out from similar businesses is their focus on helping businesses or influencers leverage social media to build a brand and grow brand awareness to the extent that it exceeds goals.
For those starting out in business, Amya advises "You'll learn as you go, be sure to take breaks when you can, and remember there is always a work around."
As a budding entrepreneur, Amya is most inspired by her mom, Desireé L. Burgos, and various black female leaders such as actress, singer, producer and entrepreneur, Tracee Ellis Ross.
When not helping businesses build their brands, Amya enjoys sudoku, watching Marvel movies, and relaxing.
AZ Media
Montclair, NJ 07042
973-348-9033
amyaz@azismedia.com
www.azismedia.com
calendly.com/azismedia